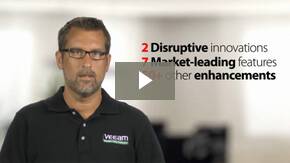 Recover a failed vm in less than 2 minutes
Reduce TCO and increase ROI
With Instant VM Recovery™ you can run any virtualized application on vSphere or Hyper-V directly from the latest backup. Instead of making users wait while you provision storage, extract the backup and copy it to production, you can simply start a VM with Veeam's patented vPower® technology. After that, use VMware Storage vMotion, Hyper-V Live Migration or Veeam's proprietary Quick Migration to move VM back to production storage.
While many vendors claim to be able recover a VM quickly, not all VM recovery solutions are created equally. Veeam's Instant VM Recovery:
Delivers first-to-market technology proven by tens of thousands of customers worldwide
Supports both vSphere and Hyper-V and is storage agnostic
Does not require additional VMware Storage vMotion licensing
Cut your costs by up to 70%
Reduce TCO and increase ROI
What used to be complex and costly is now easy-to-use and affordable. With Veeam, powerful data protection that's built for virtualization doesn't come with a high cost. Veeam® Backup & Replication™ provides the most comprehensive protection of your virtual infrastructure, packaged at a low total cost of ownership (TCO), and packed feature-rich to give you the greatest return on investment (ROI) in virtualization.
Veeam Backup & Replication is a solution that offers enterprise backup features to small business environments for a surprisingly affordable price.