Fewer redundant tasks. More time to focus on future growth.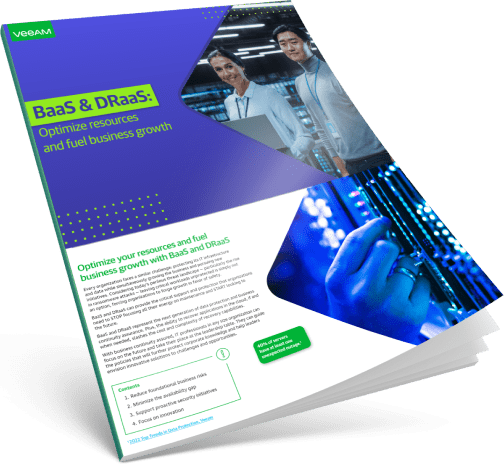 BaaS (Backup as a Service) and DRaaS (Disaster Recovery as a Service) have emerged as strategies that organizations of all sizes can leverage to protect their data wherever it resides, whatever the potential risks.
In this eBook you'll learn:
Industry best practices for backup and recovery to reduce risks and minimize availability gaps
Proactive security initiatives to stay resilient in the face of attacks of all kinds, including ransomware
Innovative solutions to challenges and opportunities rather than spending energy on maintenance
How Can We Help?
Find a partner
Leverage the experience and best practices only specialized services can provide.
Read our Success Stories
Find out how organizations like yours are finding success with Veeam Cloud & Service Providers.
Veeam‑powered BaaS & DRaaS
The off‑site backup, monitoring and management, and disaster recovery services you need to stay resilient.